Time To Call Wade Phillips
April 1st, 2020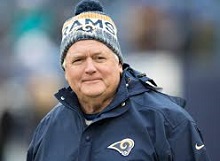 A legendary defensive mind and coordinator is looking for work in a 32-team league that already has 32 defensive coordinators.
If the Bucs are heart-attack serious about going all-in for a Super Bowl, they should be on the phone to Wade Phillips about a consulting/assistant coach/Tom Moore kind of gig.
Yeah, yeah, Todd Bowles. Joe's not advocating the removal of Bowles, just the hiring of Phillips. After all, Bucco Bruce Arians has the biggest staff in the NFL. So what's one more?
Phillips has been a defensive coordinator in two of the past five Super Bowls (Broncos and Rams), and he's known for his defenses getting fast results.
We all saw what happened when Phillips took over in Houston back in 2011. Despite a new defense in a lockout season, Phillips' finished with the NFL's No. 2-ranked defense, one that had been ranked No. 30 the prior season. The guy gets the most out of players in a hurry.
Phillips, 72, didn't have his contract renewed by the Rams after last season and nobody hired him. Via Twitter and his recent book-tour interviews, Phillips has made it clear he's very hungry to continue coaching. It's also clear from those interviews that he understands he wouldn't be a coordinator in 2020.
What possibly would be a reason not to interview Phillips about a defensive consultant gig?
Ego?
If Joe were Bucco Bruce Arians, who is hungry as hell to win immediately, Joe would schedule a Zoom call with Phillips and Bowles over a couple of cocktails. What an addition to the staff Phillips would be and, if Bowles somehow got another head coaching gig in 2021, Phillips would be one helluva short-term replacement.
The thought of not calling Phillips to talk sickens Joe. Hopefully, Arians already has at least reached out.