Tedd Ginn & The Bucs
April 20th, 2020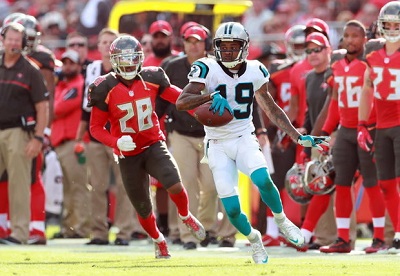 There's always a wave of free agency that comes after the NFL Draft.
For teams unable to meet perceived needs via the rookie pool, their attention often turns to what's left on the street.
One former first-round pick, receiver/returner Ted Ginn, is a guy Joe thinks might capture the attention of Bucco Bruce Arians. Ginn turned 35 a week ago and played every game for the Saints last season.
He's not what he used to be, but he has no plans to retire, so Ginn told ESPN in an interview last week.
Ironically, Ginn seems like the classic Patriots post-draft signing — to add an experienced deep threat for Tom Brady.
If the Bucs don't draft a receiver this week, Joe wouldn't be able to find a reason why the Bucs shoudn't invite Ginn to Tampa for a workout and a chat. Of course, that would have to wait for The Plague to be lifted, though Ginn certainly has enough cash stashed to record a professional workout and email it to the Bucs.
Again, Joe's not screaming to sign Ginn, but he's just the type of guy you add in an all-in season if you don't improve at receiver in the draft.