Team Glazer Will Buy 5 Million Meals
April 21st, 2020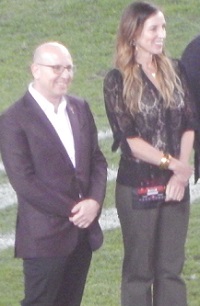 The Team Glazer vault has opened wide.
The local economy getting groin-stomped by The Sickness has prompted Bucs ownership to help feed the community via Feeding Tampa Bay, the team announced today.
"The effort will impact five area counties by supplying necessary groceries and provisions to individuals and families, children's meal sites, and seniors confined to their homes," per the release.

"During these difficult and uncertain times, it is critical that we come together to assist those who have been most impacted by this crisis," said Buccaneers Co-Owner Darcie Glazer Kassewitz. "Our family is extremely grateful for the great work being done to ensure that meals are available throughout our communities. It is our hope that these 5 million meals will assist Feeding Tampa Bay in continuing to provide these essential resources and services that are so vital to so many."
Impressive move by Team Glazer — 5 million meals is a huge commitment.
Joe wonders if Team Glazer will make sure its meals are a little extra special, perhaps an extra mango or a vegan oatmeal cookie with Tom Brady's face on it.