Official All-Decade Honors For Ndamukong Suh, Tom Brady; Blows For Gerald McCoy & Lavonte David
April 6th, 2020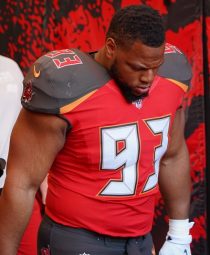 The ballots of important football scribes were counted and the heralded All-Decade team (of the 2010's) was announced today by the Pro Football Hall of Fame.
JoeBucsFan.com columnist Ira Kaufman did a strong job with his ballot, including Lavonte David in the mix, but he was not in the majority.
Bucs defensive tackle Ndamukong Suh got the honor over Gerald McCoy. The four defensive tackles named are: Geno Atkins, Fletcher Cox, Aaron Donald and Suh, per the Hall.
Suh started all 142 career regular season games he has played in, totaling 478 tackles (107 for loss), 56.0 sacks, 32 passes defensed, four forced fumbles, four fumble recoveries and one interception. Since entering the NFL, his 107 tackles for loss are fifth-most and his 166 quarterback hits rank seventh. He is third among defensive tackles in sacks (56.0) in that time. Suh has been selected to five Pro Bowls and been named first-team All-Pro three times.
Somewhere, McCoy is feeling underappreciated.
On the linebacker front, the nods went to Chandler Jones, Luke Kuechly, Khalil Mack, Von Miller, Bobby Wagner and seven-time Pro Bowler Patrick Willis. One could argue David has better numbers than Willis, and that's happening on Twitter, but playing in eight playoff games and being a heralded first-round pick in a big market certainly led Willis to the esteemed honor.
Tom Brady, of course, made the team on the offensive side of the ball, as did his former teammate and ex-Bucs left guard Logan Mankins.
Not-good-enough-for-Lovie-Smith cornerback Darrelle Revis also made the squad with Patrick Peterson and Richard Sherman at the position.
Tyrann Mathieu and Chris Harris, Jr., were chosen under the defensive backs category used for versatile DBs not picked as cornerbacks or safeties. Somewhere, Aqib Talib is pissed.