Jameis: "I Guess That's Kudos To Me"
April 8th, 2020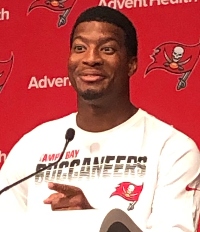 Unemployed America's Quarterback, Jameis Winston, made his first public comments today on getting replaced by Tom Brady.
They came on FOX News, and the spin didn't stop there, as a scandal-riddled former FOX news host used to say.
"I guess that's kudos to me," Jameis said of being replaced, noting Brady is "The Goat" who now is in the city that Jameis loves.
Jameis went on to say he looks forward to competing against the great quarterbacks of the game soon so he can win Super Bowls, too.
Jameis has teamed up with a doctor to promote a plague hotline to help sufferers have questions answered about the illness from the safety of their homes. That's why he was on FOX News; (844) TEST-COVID is the number, and no, Jameis does not answer that phone.
Joe has the FOX video below, via TMZ.