"I'm Going To Miss Being A Starting Quarterback"
April 29th, 2020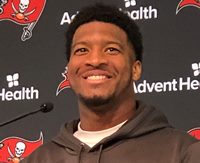 UPDATED 11:37 a.m. – America's Backup Quarterback, Jameis Winston, opened up a bit yesterday about his relocation to the New Orleans Saints.
He quoted a proverb about humility and shared how excited he is to learn from Drew Brees and the Saints' accomplished coaches.
"I wanted to put my ego aside, put the money to the side and think about my family, think about my career," Jameis told former Florida State QB Charlie Ward of accepting his new role.

"It was no better position that to be in the same room with someone that I really looked up to, someone that I admired since I've been playing this game in Drew Brees. Just understanding where I'm at in my career. I've done some great things with the Bucs. I'm going to miss being a starting quarterback, but you never know what happens."
It felt like Jameis made it clear that he's eager to do what Teddy Bridgewater accomplished in New Orleans. Learn a lot while raising his QB stock in NFL circles.
Bridgewater, however, caught a break last year. Brees missed five games and the Saints didn't lose any of them.
If Jameis goes through the 2020 season without seeing meaningful snaps, Joe's not sure how much of an impact that will have on his career. But it would put the Saints in a great position to give Jameis a shot in 2021 if Brees retires. That certainly could boost the Bucs' interception totals.
Jameis Winston's one-year contract with the Saints carries a base value of $1.1M, per source. He got a $148,000 signing bonus, a base salary of $952,000 and $3.4M is available in incentives. Jameis prioritized the chance to learn and grow as a player.

— Field Yates (@FieldYates) April 29, 2020