"It's Going To Carry Over To Every Single Position And Every Single Job"
April 6th, 2020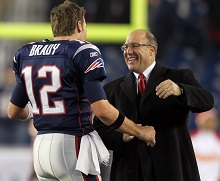 A guy given credit for the Patriots drafting Tom Brady and who spent nearly a decade working around him is among the masses believing Brady literally will transform every member of the Buccaneers' roster.
Joe gets it. But damn, Brady is still human and will need to learn a new offense and a new environment, all while he performs the herculean task of transforming the Bucs from professional losers into a team that plays meaningful January football.
Former Patriots, Chiefs and Falcons executive Scott Pioli called himself a "close personal friend" of Brady on CBS Sports Radio last week and explained that radical change is coming to Tampa.
"There's such a dramatic difference, even at Brady's age, and as young as Jameis is," said Pioli, who resigned as Falcons assistant GM last year. "The thing is with Jameis he was so, on the field on gameday, unpredictable and undependable. And then even when he made those mistakes, the lack of accountability. Again, I'm not talking as a human being; I'm not beating him up as a person. But there's going to be a heightened level of accountability at the quarterback position, which is the most important position, and that is going to permeate through the locker room and it's going to carry over to every single position and every single job on that football field.

"You know Brady, now in his early 40s, he's still an outstanding player. … He's going to bring a presence and a work ethic and work habits that are going to make a big difference on that football team."
Joe found the last sentence interesting because Bucco Bruce Arians and QB coach Clyde Christensen both have said they've never had a player who worked harder than Jameis and he put in great effort with a yes-sir attitude at all times.
So how exactly will Brady's work ethic and habits "make a big difference" as Pioli said?
The "presence," however, is a different story.
Joe sure hopes the Bucs get off to a strong September start. As conditioned as many Bucs players have been to losing, if they don't see Brady saving them early, Joe is concerned the Bucs have too many fragile, loser mentality that might not feel Brady's "presence" like they should if the Bucs have, say, a 2-3 record.
That may sound harsh, but with Brady in place the goal is at least one playoff victory immediately.