Donovan Smith Talks "The Goat Coming To Tampa," Jameis & More
April 3rd, 2020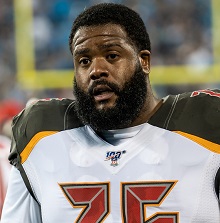 Welcome to a gargantuan spotlight, Donovan Smith.
Rondé Barber will be watching closely.
Smith is like most Bucs fans. He's excited about Tom Brady joining the Tampa Bay Buccaneers. He talked to WDAE radio yesterday.
Joe's got highlights the Bucs' left tackle:
*Smith, 26, questioned whether early Brady-to-the-Bucs reports were real, then his phone blew up when Brady was signed from people he hadn't heard from in ages. "Hey, you got The Goat coming to Tampa. So, you know, I was pretty happy about it."
*Getting on the same page with Brady is critical, even if that's means online meetings during Coronavirus isolation, he said. "That's where you gotta be a pro, roll with the punches. … Get in the film room and your books, and stuff."
*No surprise that Chris Godwin handed over his No. 12 jersey without hesitation.
*"Expectation is obviously raised" on the Bucs, said Smith, adding that everybody will bring their A-game.
*On Jameis Winston: "Oh, man, you know I have nothing but praise for Jameis. … We've been through a lot, through the past five years. He's a hard worker, he's a great teammate. That's my man. Obviously, it felt weird. And I shot him a text and told him that. I just wish him the best in wherever it leads him. I'm not sure. I'm not a GM. I just wish him many blessings and wherever he gets picked up, they're getting a great guy, a great teammate, a great player and a great quarterback, the hardest worker I think I've seen."
*Coronavirus has kept Smith glued to Netflix, he said, adding that he's been watching a lot of Love Is Blind with his girlfriend. His workouts have been disrupted, he said, but he's investing now in a home gym and is shooting a lot of hoops in the backyard.