Defensive Coach Vs. Offensive Coach
April 16th, 2020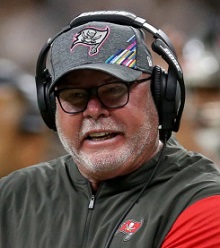 Bucco Bruce Arians' 1989 roommate was talking today.
Joe's referring to Buccaneers icon and Hall of Fame head coach Tony Dungy, who joined The Rich Eisen Show.
Dungy expressed many of the typical thoughts about the Arians-Tom Brady marriage, which he thinks will mean more wins for the Bucs. But Dungy did venture to a different theme, one he understands well.
While Arians and Bill Belicheat have similar old-school styles, Dungy said, Brady will appreciate a major philosophical change.
"The difference is Tom has spent 20 years with a defensive coach," Dungy said. "Now he's with an offensive guy. Very similar style but different thought processes. Bruce is creative. Bruce is going to push the ball. They're going to score points. And I think Tom is going to enjoy that and appreciate it."
The Bucs racked up 28.6 points per game last season, third most in the NFL. Just imagine what would happen if Brady is better than Jameis Winston and the Bucs find a threatening running back and a consistent freakin' kicker.
As for Brady having a say in the Tampa Bay draft, Dungy seemed to think that wouldn't happen. Peyton Manning didn't go there in Indianapolis.
"He obviously had his thoughts. And he'd want to know who was good, who we were looking at. But it was never the type of thing where he'd come in and say, 'We ought to take this guy,'" Dungy said of Manning and the NFL Draft.
However, Dungy said Manning was very eager to have his voice heard in free agency every year.