O.J. Rumor Clarification & Justin Jefferson
April 21st, 2020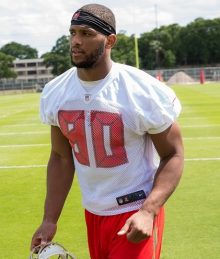 Yes, there are real rumblings that the Buccaneers will draft an electric wide receiver in Round 1 of Thursday's NFL Draft.
But what if they go after the available Chris Godwin clone instead?
After the Big 3 receivers in Thursday's draft, next up for most observers is Justin Jefferson. He's a do-it-all receiver out of LSU at 6-1, 202 pounds, who caught 111 balls last season and finished incredibly strong against Georgia, Oklahoma and Clemson in the national title game.
Joe doesn't think the Bucs will go receiver, but NFL Network insider reporter Ian Rapoport told WDAE radio today that he thinks it's a real possibility and Jefferson was his pick for Tampa Bay.
Rapoport, who is in regular contact with NFL general managers, added that he's not swallowing the O.J. Howard trade rumors.
Howard trade chatter was real months ago, but the recent escalation of the chatter is empty.
"From what I understand, [the rumors] actually haven't increased recently," Rapoport explained. "Like it's possible there were some sort of leftover rumors from free agency. I know teams called about him. But what happens is when you hear rumors like, 'Hey, this guy's on the block,' then teams start calling and that sometimes leads to more rumors.

"I haven't gotten the sense the Bucs want to deal him. Again, like it would be strange to get Tom Brady, you've seen him thrive with two good tight ends and then you trade your former first-round tight end before he gets to play with Tom Brady."
What would be strange is the Bucs trading Howard for, say a late third-round pick. If that's all they can get, then why not just keep him?
After all, Brady is supposed to bring the best out of everyone. And O.J.'s best might be extremely special.