Brett Favre Talks Tom Brady
April 18th, 2020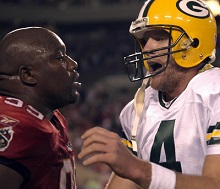 At 40 years old, Brett Favre arrived in Minnesota and threw 33 touchdowns, 7 interceptions and completed a career high 68.4 percent of his passes in the 2009 regular season.
Man, if the Bucs get that kind of production from Tom Brady this season, tens of thousands of fans will be in extreme ecstasy watching the Bucs in the playoffs and celebrating greatness. Joe might even take a day off!
Favre visited with CBS HQ on Friday and made it clear that the Bucs have a chance to play in February after adding Brady. "A chance to go all the way, not just make an impact, go all the way," he said.
Favre praised Brady's "leap of faith" to join the Bucs and lauded Brady for his greatness downplayed any thought that there was a riff in New England.
"Regardless of what happens, you know, it's his decision. I commend him greatly for that decision, not necessarily for leaving but for taking that leap of faith," Favre said.

"I know Tom real well. We talked a little bit about it but I think more than anything he just kind of wanted to try his hand at somethin' different, and you can't fault him for that. It has nothing to do with the [Patriots], even though people may make it out to be a riff between he and Belichick or the organization. Look, what they did is unbelievable, and that will not change. He just wants to try his hand at somethin' different and if it works out, great. If it doesn't, he's still the greatest to ever play the game."
Joe has heard Favre say previously that Brady remains at the top of his game.
Man, Joe loves the pressure on the Bucs this season.
Win early (for a change). Win often. Win or pack your bags.