Brady And The "Throwaways" Number
April 10th, 2020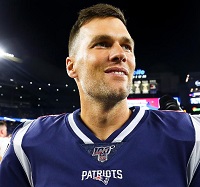 For the past 14 seasons, a popular stats outfit has been charting "throwaways" by NFL quarterbacks.
Newer Bucs fans may not be too familiar with throwaways — except the kind to the wrong team.
Joe was watching an ESPN TV clip on YouTube recently that was breaking down why Tom Brady had a good but unspectacular season last year. A big focus was on his "throwaways" total, as provided by Pro Football Focus, aka the PFF Tribe and their band of misguided player graders.
According to Tribe data, Brady had 45 throwaways last season, 15 more than in any previous season; they started tracking that number in 2006.
Now Joe has little faith in The Tribe overall, but Joe assumes they've at least been consistent with this subjective but easy stat to track.
The Brady total of 45 total is one of the highest numbers in the history of the stat. For example, Philip Rivers set a new NFL record (since '06) for throwaways with 46 during the 2016 season. Aaron Rodgers broke that record in 2018.
The implication on the ESPN panel was that Brady threw the ball away a lot because his pass catchers were subpar, a significant drop from what he had in previous seasons.
Joe buys the logic, but it will be an interesting marriage between Arians and Bucco Bruce Arians. Joe just knows there will be times when Brady throws the ball away this season and Arians will tell himself (even if just for a second), 'Sh*t, that would have been a completion last year.'
No, Joe isn't saying Jameis Winston is better than Brady, only that throwaways will be revived in Tampa, especially if the Bucs don't upgrade significantly at running back or find a solid right tackle.