Bill Cowher Talks Tom Brady In Tampa
April 13th, 2020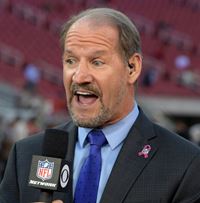 Once upon a time Bucco Bruce Arians worked with Hall of Fame head coach Bill Cowher in Kansas City and then worked for him in Pittsburgh.
Cowher spent years coaching against new Bucs quarterback Tom Brady, and he sees looming challenges and an exciting marriage for The Goat and Tampa Bay.
Like most NFL people, Cowher believes the inevitable pandemic-shortened offseason will be a killer to new coaching staffs and quarterbacks with new teams, though he thinks Brady will get through it successfully.
"This is unconventional right now. No one's ever been through this before," Cowher said. "And so to bring a new player in, to have him learn your system, and I know Tom's been around; it's just a matter of terminology and I think he'll pick it up [quickly]. But I think when you look at the greater scheme of things, for a lot of these new coaches, you have to honestly consider keeping the terminology from a year ago. You just don't know what your terms of practice are going to be and what the terms are regards to how much time you have to develop a team, to put a system in before all of a sudden you have to start playing games."
Cowher sees Arians keeping a close eye on the punishment Brady takes at 43 years old.
"I think B.A. will make sure that he monitors the amount of hits that he takes," Cowher said of Brady. "And he'll make sure he incorporate some of the things that Tom is comfortable with. But boy, I'll tell you, Tom for the first time has some outside weapons in [Godwin] and Evans. I mean, he's got some weapons he hasn't had in the last few years."
Ahh, the hit count on Brady. It will be critical as the Bucs hope to play 19 or 20 games, versus the typical 16.
It may be the biggest reason the Bucs draft a right tackle early and acquire a quality pass catcher out of the backfield. Without a reliable outlet, Brady will take more punishment than he's used to.
And since the Bucs ignored running back in free agency, they've backed themselves up against a wall.