Tom Brady's Fulfilling Sunday
March 30th, 2020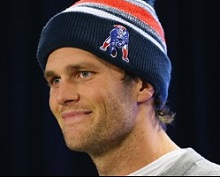 When he's not giving humans a personal plan to aid in the fight of Coronavirus, Tom Brady is busy dabbling in Joe's addiction.
Yes, Joe is talking about watching football, not staring at Gisele.
Notable Boston sports radio personality Lucy Burdge was following Brady on social media yesterday and shared that the Bucs' culture-changer quarterback was glued to a replay of the Patriots' historic Super Bowl comeback three years ago against the Falcons.
If Brady is the master motivator/leader most believe he is, then Joe has to think Brady's share of his Super Bowl heroics represents a message to his new teammates.
Brady started watching this today in his Brookline house (?!) and then switched to a different TV ??? pic.twitter.com/rdmcpZscf6

— Lucy Burdge (@LucilleBurdge) March 29, 2020
Brady is emotional. pic.twitter.com/5hRfyqKmf0

— Lucy Burdge (@LucilleBurdge) March 29, 2020