Tom Brady Motivating Ndamukong Suh?
March 26th, 2020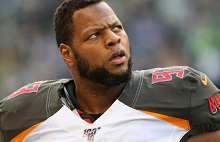 Joe soon expects to hear reports of Tom Brady eradicating red tide, building the Rays a stadium and eliminating the cover charge at Mons Venus.

So many people are expecting Brady to do extraordinary things with the Buccaneers.
Yes, Joe expects Brady to be a powerful leader and a more effective quarterback than his predecessor. But will he automatically equal four or five more wins immediately, on a roster that did not improve yet in free agency, other than at QB? It's a very common belief out there.
Former Bucs quarterback Chris Simms was a Patriots assistant coach after he retired, and he's seen the Brady effect first-hand.
Simms explains in the PFT Live video below that Bucs players are about to realize what slackers they have been in practice because Brady significantly will raise the level of play and expectations on a daily basis. And Simms and co-host Mike Florio, the ProFootballTalk.com guru, discuss Brady exploring ways to motivate Ndamukong Suh to play like the dominant force he used to be, noting Suh has never played with that kind of leader.