Tom Brady Mixing With Bruce Arians
March 24th, 2020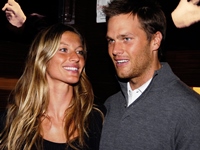 What will be fascinating for Joe is how a guy like new Bucs quarterback Tom Brady, who excelled in all facets of football with the possible exception of mobility, fits into Bruce Arians' no-risk-it; no-biscuit mentality.
Brady was never a quarterback who took many risks. He just got the job done. And won. A lot.
So today, the Bucs' signal-caller was asked about adapting to Arians' throw-caution-to-the-wind style.
Brady seems to have a solution that would satisfy his style with Arians' desires.
Complete passes.
"I paid attention to he and his offense for a long time,": Brady said of Arians. "Everyone has different styles and philosophies in how they call things.

"Football to me is about throwing to the guy who is open. If he is open deep that's where you throw it. If he's open short, you throw it there. If he is open outside you throw it there. If he's open inside, that's where you throw it. You get the ball to the guy who can do something with it."
And Brady remarked several times how the Bucs are loaded with "really talented" weapons on offense.
Oh, for those who are lying awake at night wondering what, if anything, will become of Chris Godwin's No. 12, Brady was asked about that as an element of a two-part question. He didn't respond to the uniform number query.