"Sleepness Nights" Ahead
March 31st, 2020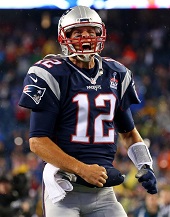 A former Pro Bowl quarterback, Super Bowl QB and a hated rival of Bucs fans chimed in recently on what Tom Brady will mean to the Buccaneers.
This should got any Tampa Bay fan jacked up.
Jake Delhomme spent seven years under center for the Stinkin' Panthers (2003-2009) and now works as an underrated analyst on Panthers' radio broadcasts.
Asked about the Bucs' prospects with Tom Brady on CBS Sports Radio, Delhomme got excited.
"Tampa's a sneaky talented football team. I called their games this year against the Panthers," Delhomme said. "They were fantastic [in] run defense. They have some young guys in the secondary, some longer guys. They improved as the year went on, and big-time weapons to throw the football to, some very big weapons. They were a decent football team with all these turnovers. And we all know the statistics with turnovers and winning in the National Football League.

"[Brady is] going to make this team have a different level of focus and energy when he walks into that building, wherever it may be. Because the first thing I know as a player [Bucs players] are all going to say, 'I better be ready to go from the beginning, from the first walk-through. I can't let Tom Brady down. Because I know through past history that he's not going to let us down.' And that's going to raise the level of intensity and focus and preparation for this Tampa Bay team."
Delhomme added that he thinks the Saints are absolutely loaded with talent and are heavy favorites in the NFC South, but he can see the Bucs in the playoffs and scaring the crap out of opposing coaches
"You know each and every defensive coordinator is going to have sleepless nights preparing to play a Tom Brady-led team," Delhomme said. "And that Tampa Bay team will have confidence like they've never had before knowing, 'We're going to the playoffs with the greatest quarterback of all-time.' And that, I'm telling you; when you get on a roll and confidence in the playoffs, that's all it takes."
Fire the cannons!
Joe is fired up to beat down the stinkin' Coronavirus and start football season.