JP Peterson Says Multiple Sources Tell Him Tom Brady Will Be Officially Announced No Later Than Tomorrow As Bucs Quarterback
March 17th, 2020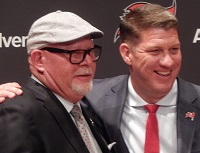 UPDATED: 3:21 p.m. – Peterson updated his audience to say he got a text from a trustworthy source advising him a deal is being finalized but is not complete.
UPDATED: 3:38 p.m. – Peterson further clarifies and tells his audience Brady has chosen the Bucs and has instructed his agent to finish off a contract.
Longtime radio and TV voice in the Tampa Bay area JP Peterson just hit the 820 AM airwaves and proclaimed no later than tomorrow the Bucs will announce they have signed Tom Brady to be their next starting quarterback.
Peterson said he heard this from multiple "well-placed" sources. Peterson is a long-time friend of Rondé Barber, who recently was on his radio show.
"They told Tom Brady he would have a lot of control, not yes and no over the roster as some have said, but he will have a lot of input," Peterson said of the Bucs' offer to Brady.
Exciting times, Bucs fans. Incredible times.