"Hopefully Somebody Like Lavonte David Gets The Credit He Deserves"
March 30th, 2020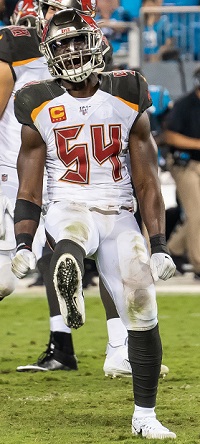 Joe's going to stop shaking his head to wag an accountability finger at Bucco Bruce Arians for his recent chatter on national radio.
During one of Arians' many post-Brady-signing interviews, he noted that one reason he's excited for all the upcoming prime time games and inevitable spotlight is because "hopefully somebody like Lavonte David gets the credit he deserves."
Well, consider that the Bucs were eliminated from the playoffs on December 8 of last year. Arians, if he really cared about David getting credit for his great play, could have then ordered guys like Todd Bowles, Mike Evans, Ndamukong Suh and others to use their star power to do some interviews to promote David's play while Pro Bowl voting was still active.
Of course, Arians himself could have done a car wash of national interviews at the time. (The Bucs were 6-7 and on a three-game win streak). But he didn't. The head coach also could have asked general manager Jason Licht to come out of his months-long media hiding, or for Jameis Winston to drop a few Tweets for No. 54.
Joe could give more examples, but you get the idea.
Aside from incessant losing, David and other Bucs suffer from a lack of recognition in part because the Bucs do such a crappy job getting the word out. Apparently it's easier to complain about it than to do something about it.