Donald Trump Talks Tom Brady, And Talks To Tom Brady
March 27th, 2020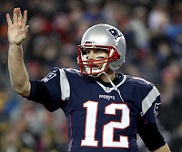 Maybe Joe will have to rethink the America's Quarterback moniker.
Yesterday during a daily plague briefing, the President of the United States said he likes Tom Brady and he "spoke to him the other day. He's a great guy."
Hey, Bucs legend Derrick Brooks was in the Oval Office last month, so it's been quite a flurry of renowned Buccaneers on the political stage lately.
What next? Will Jason Pierre-Paul get some sort of bravery medal for his broken-neck comeback?
President Trump's Brady comments are in the Twitter video below.
Joe has closed the comments because Joe doesn't feel like filtering through all the inevitable angry hate speech commenters will hurl at each other as a result of this post.
President Trump made reference to Tom Brady in his #Coronavirus news briefing.

He says during a meeting with the Governors someone mentioned they needed Tom Brady-type leadership. 👇 pic.twitter.com/M5h7e888tQ

— David Wade (@davidwade) March 26, 2020