Bruce Arians Expects Brady Will Get Bucs To "Have Their Sh*t Ready To Play Right"
March 27th, 2020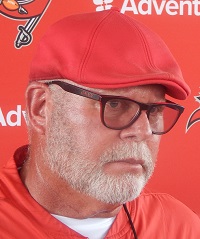 All the leadership chatter surrounding Tom Brady fixing the we-don't-know-how-to-win Buccaneers is everywhere.
Bucco Bruce Arians clarified it a bit yesterday.
Speaking on CBS Sports Radio, Arians was asked about the transformative impact of Brady in the locker room and on the field.
The head coach can't wait to watch it evolve.
"That to me is the most intriguing part," Arians said. "I mean, I know he can throw the football. I graded all the film. But when he steps in the huddle, it's a different huddle. And there's an an expectation of everybody that's in that huddle to have their shit ready to play right, and great. Because that's what he expects from them because that's what he's giving them.

"So yeah, I think that part of it. That excites me more than anything because we were so close last year. We were 7-9, but we were so close so many games. And he's going to bring that confidence that we're going to get this done."
Joe can't wait to see Brady lead this team, but Joe really thinks the hype is going over the top. Up next, Brady will redirect hurricanes, stop overcrowding at Pasco County Schools and legalize recreational marijuana.