Bruce Arians Scoffs At Those Who Say Brady Has Lost His Deep Ball, Details Offense Fit
March 27th, 2020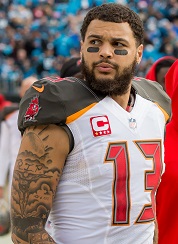 Has Tom Brady lost the fastball in his 42-year-old arm?
Joe doesn't think so, but it's a common criticism of Brady. As Joe scolded Ira Kaufman on the Ira Kaufman Podcast many times early this year, Brady had no deep threats in New England. That's why the team was chasing freak show Antonio Brown and spent time standing behind Josh Gordon.
Bucco Bruce Arians was on CBS Sports Radio yesterday and was asked about the many folks who say with confidence that Brady has lost the pop on his deep ball.
"I don't know what they're looking at," Arians said. "But, you know, they don't throw the ball deep that much [in New England]. But when they did, it was super accurate, super efficient. You know, he's going to complete the football; that's what we want also. Now if that means look deep, take short, I'm fine with that, you know.

"But still, take your shots when they're there. And in our offense, if it's 3rd-and-2 and we get the right matchup, I'm not afraid to throw the deep ball, if it's the right matchup. But let's continue to move the chains, also. You know, he and I have had some great conversations about that already. He's a really good play-action and he's gotten really good in the last three or four years at play-action, which is one of our staples. So we're also a huge empty [formation] team, where the ball's coming out fast. I can see him just see him getting in empty and going right down the field."
Joe likes that last sentence. Get Brady in empty and let him carve up teams with two tight ends, two receivers and a running back who can catch.