Brady Would Improve O-Line, Develop Playbook
March 12th, 2020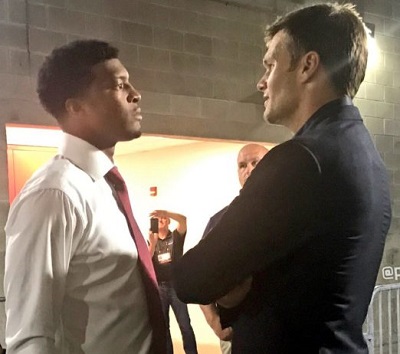 Regular readers here know Joe has respected favorites out there in the NFL media world, especially some who have worked as coaches and front offices.
And one of them weighed in strongly on the Bucs and Tom Brady yesterday.
Speaking to his giant audience on SiriusXM NFL Radio, former Jets assistant coach and personnel chief Pat Kirwan, a Bucs scout years ago, explained several reasons why he believes Brady is a fit for Tampa Bay — and vice versa.
Kirwan is confident Brady would wield a lot of power and make the Bucs' offensive line look damn good in ways Jameis Winston couldn't.
"No. 1, I think of all the guys that are out there, coaches that could potentially be on Tom's list, I would think Bruce will be an intriguing guy for him," Kirwan said. "Bruce is going to let him be himself and do his thing and all that business. No. 2, they have big weapons in the receiver group. No. 3, I would think that he's going to let Tom basically install an offense, like a Peyton Manning situation when he went to Denver.

"I don't think they're going to force an offense down Tom's throat. I think they're going to let Tom develop what he wants to do. And I'm sure he's going to meet them halfway with things that are on their mind. So from the coach/player relationship, that's a passing grade [for Brady]. So from the talent he's throwing to, that's a passing grade.

"Not so much maybe in the [Bucs] offensive line, but Tom in a lot of ways has helped linemen; he's a mid-line thrower and the ball's out of his hand. So maybe a bunch of linemen that didn't look as good with the indecision level of Jameis will look a lot better with Tom."

"The last piece of it is, when the dust settles and all the BS is gone, how many teams are really after Tom? Now this Tampa Bay thing, they've got a lot of empty seats and they've got a young quarterback they're kind of disenchanted with. So it might be the right place. I'm not here to promote it. I still think he should go back to New England."
The O-line chatter from Kirwan is interesting. Bucco Bruce Arians went status quo on the O-line from the Dirk Koetter 2018 season, and there's a lot of love at One Buc Palace for that unit.
The X-factor in all of this Brady intrigue is the unknown of what Brady really wants. If it's great receivers, a coach who will roll out the red carpet for him, gobs of Team Glazer loot on a two-year contract, nice weather and the challenge and chance to raise a franchise from the NFL dead, then Tampa is a hell of a destination.
Does anyone really think Brady would want to go deal with Chucky in Patrick Mahomes' division with no receivers?