Are Superstar Comparisons Hurting Jameis With Bruce Arians?
March 3rd, 2020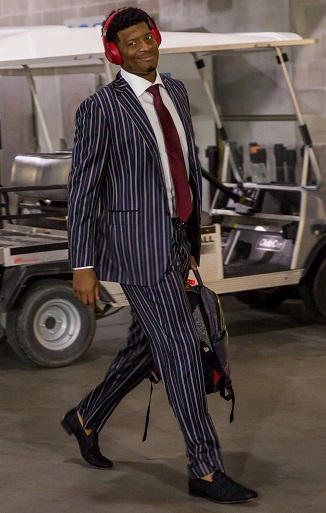 Very interesting commentary was delivered by Buccaneers quarterbacks coach Clyde Christensen last week.
Christensen made his way to Radio Row at the NFL Scouting Combine and in addition to talking to Joe, Christensen talked to the local Indiana radio station next to Joe's setup.
One question Christensen was hit with was about going from working with Peyton Manning and Andrew Luck to lesser talents like Ryan Tannehill and America's Quarterback, Jameis Winston.
There's a big difference, explained Christensen, noting that Manning and Luck are on an elite mental plane because they process information so quickly. Christensen offered an example and said guys not named Manning and Luck often get real-time info via their headsets and "it would paralyze them."
For those quarterbacks, without mentioning Jameis by name, Christensen said it's often better to not let them know what's coming when it's a super-late adjustment.
Coaching Manning and Luck, and then going to Tannehill and Jameis, can affect a coach, he added.
"I think you do get a false sense [of your coaching ability], you almost have to re-learn what do I really believe in because with Peyton you could do anything and he makes it work," Christensen said.

"…You can get lulled to sleep and think you're a better coach than you are. That's part of this thing. 'What can my guy do? What can our guy do? How do we use him successfully and plug him into the thing?' And so, yeah, absolutely. Some guys never can. They just say, 'Hey, here's what I do.'"
This made Joe wonder whether part of Bruce Arians' struggles with Jameis' 30 interceptions have something to do with the superstar list of quarterbacks he's coached in past years.