Simms: Arians & Andy Dalton Are "Interesting Fit"
February 21st, 2020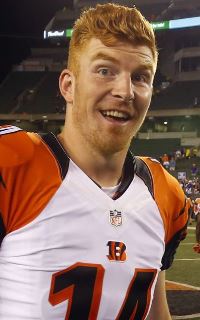 Former Buccaneers quarterback and Patriots assistant coach Chris Simms told a telling Lamar Jackson story recently on an NBC Sports show.
Months before the 2018 NFL Draft, Simms touted on national airwaves that Lamar Jackson was a superstar quarterback in waiting. And then Simms said he arrived at the March NFL owners meetings that year and was besieged by NFL executives mocking his assessment of Jackson.
It was so intense, Simms said it actually led him to dial back his support of Jackson a bit and he regrets being intimidated/swayed to this day.
Jackson was drafted No. 31 overall and the rest is history.
The son of a Super Bowl quarterback, Simms knows the position inside and out and has annually does intense film work on all the NFL QBs, so his Twittering this afternoon might make a Bucs fan take pause.
Simms shared that three-time Pro Bowler Andy Dalton is primed for a major bounce back season, especially if he lands with Bucco Bruce Arians.
Mentioned this on the pod: think that Andy Dalton has a chance to be next year's Tannehill. Fresh start, still has arm talent, good athlete. Matching him up with Arians would be an interesting fit. Tons of opportunities for downfield plays, that's for sure https://t.co/ZYXIl3QARM

— Chris Simms (@CSimmsQB) February 21, 2020
Simms isn't high on Jameis Winston, but he is not anti-Jameis, either. Joe's listened to Simms enough to know he wouldn't blink if the Bucs waved goodbye to Jameis' big-time talent in favor of a less expensive veteran.
Dalton with the Bucs at 32 years old might actually drive Joe to take a couple days off and put a gone-fishin' sign on this website, though Joe would understand a Dalton signing if it was accompanied by the Bucs drafting a quarterback in Round 1 next month.