Philip Rivers Speculation Ends/Begins
February 10th, 2020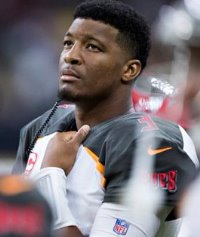 A quarterback who threw for 4,615 yards last season with 23 touchdowns and 20 interceptions will have a new team in 2020.
Today, the Chargers announced Philip Rivers will not return for a 17th season with the team.
What's unclear is whether he's officially been released already, but general manager Tom Telesco said the Rivers release will "allow everyone to put themselves in the best position for success in 2020."
That should mean Rivers will be a free man very soon, much like how the Bucs cut Josh McCown in mid-February of 2015, in order to give McCown a head start on finding a new team.
Rivers has said he wants to keep playing. Who could blame him? The money is good, he's super durable, and he's still better than a lot of quarterbacks.
There's been all kinds of speculation about Rivers potentially replacing America's Quarterback, Jameis Winston.
Joe's interest is in how the Bucs handle Rivers' availability. Do they bring him in for a workout and a brain-picking session? Of course, that would be instant real — and/0r smokescreen — leverage with Jameis, assuming the Bucs want Jameis to return.
Do they talk to Rivers about how much money he wants to best gauge the market? Suppose Rivers is willing to play for $18 million plus incentives ? He only earned $16 million last year.
Joe's not lobbying for Rivers to quarterback the Bucs in 2020. But Joe would love to see the Bucs seriously look at Rivers. At least, that should be a good learning experience if done correctly. Team Glazer should order this ASAP.