New Detail Emerges On Jameis Winston's Knee
February 28th, 2020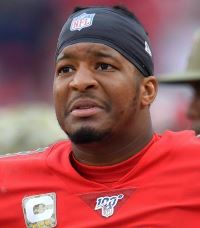 Old news has now become new news.
About three weeks ago, reports came down that Jameis Winston had a late-season meniscus issue that was surgically repaired early this year.
Today NFL Network insider Ian Rapoport said Jameis' meniscus was "trimmed" and Jameis "refused to sit" when he was injured. Presumably, Jameis was given the option to sit and decided to play through any pain or swelling, assuming he had any.
Does that add context to the season, as Rapoport suggests? Joe can't answer that.
General manager Jason Licht was asked about Jameis' surgery at the NFL Scouting Combine this week and he didn't want to talk about it. Licht seemed nervous (Joe was standing next to him) and said something about not wanting to report on every injury (as if this was a minor procedure to, say, Earl Watford. Licht also added that Jameis would be a good guy to talk to about it.
Yes, Jameis is tough and has played through injuries in previous years. However, one also could call Jameis injury prone.
Per the Bucs and the eye test, Jameis' on-field issues come via decision-making. Whether injury was a factor is unclear and will continue to be.
From NFL Now: Toughness can be overlooked, so worth noting that #Bucs QB Jameis Winston not only played through a broken thumb but also a torn meniscus that he had trimmed. And he refused to sit, adding context to his season. pic.twitter.com/ucgR5rVGTQ

— Ian Rapoport (@RapSheet) February 28, 2020