"Loves To Laugh When He's Not Cussing You Out"
February 22nd, 2020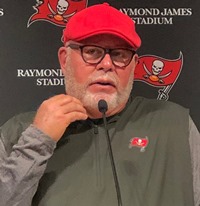 Joe loves to hear what players think of Bucco Bruce Arians.
One prominent Buccaneer shared his insight this week.
Yes, Joe calls Dare Ogunbowale "prominent." Disagree? Look at how many darn snaps he got last season at running back.
Ogunbowale was asked about Arians on CBS Sports Radio and named a couple of reasons he likes playing for the 67-year-old head coach.
"His attention to detail and then his focus on mentality. Those two things for me," Ogunbowale said. "He just wants guys that are smart tough and then play fast. And he always says, 'You can play faster when you're smart, when you know what you're doing.'"
The Bucs' third-down back and special teams captain went on to say Arians got him more focused on being a smart player and it led to him "playing 100 miles an hour and playing with confidence."
The coach is a fun guy, too.
"He's a cool guy and he's funny, loves to laugh when he's not cussing you out," Ogunbowale said.