Ex-Patriots, Chiefs, Falcons Executive Calls Jameis Winston Delusional
February 17th, 2020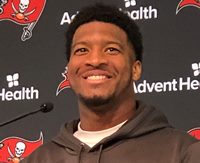 Delusional:
a persistent false psychotic belief regarding the self or persons or objects outside the self that is maintained despite indisputable evidence to the contrary. — Merriam-Webster Dictionary
Remember after last season concluded, following Jameis Winston's NFL-record seventh Pick-6 and the Bucs losing two consecutive home games, America's Quarterback told the world to "check your sheet" (aka look at my stats) because he's "ballin'" and will be the greatest of the greats if he can cut his interception total.
That display had more than a few Bucs fans squirming in their chairs.
Suppose Dalvin Cook said that after turning the ball over via 10 fumbles in a season? It wouldn't sound like he's in touch with what's happening on the field. That's the best analogy Joe can think of on a Monday morning.
Former Chiefs general manager Scott Pioli, once a high-ranking executive with the Jets, Patriots and Falcons (2014-2019), heard those words from Jameis and was left shaking his head.
"The word that I used to describe him was delusional in that moment," Pioli told SiriusXM NFL Radio last week.
And Pioli went on to call Jameis "delusional" several times. He also said he's confident Jameis got under Bruce Arians' skin and changed Arians' attitude about the Bucs' quarterback position with those comments about "ballin'" when you're not winning.
Joe disagrees with Pioli when it comes to Arians, who might actually admire Jameis' confidence. And there's a chance Jameis was just echoing what Arians and other coaches told Jameis every week.
But Joe definitely will agree that Jameis might be a bit delusional when it comes to his performance and the value of his overall stat sheet.