Forcing Competition
February 20th, 2020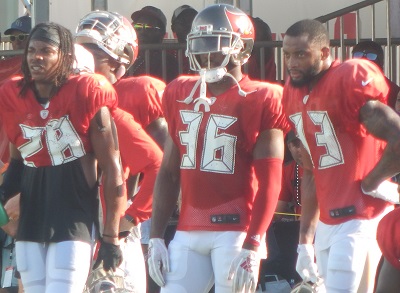 Gift-wrapping the three key cornerback jobs to Carlton Davis, Jamel Dean and Sean Murphy-Bunting would be a very Bucs thing to do for the 2020 season.
They all showed promise, so give them the keys to the secondary; Joe could see Bucs management going there.
But that would send Joe to 7-Eleven for a pack of TUMS.
How bout signing free agent four-time Pro Bowl and Super Bowl-winning cornerback Chris Harris and force competition?
Harris has been very public in his desire to play nickel cornerback as his primary position. Last season in Denver, the new coaching staff had him playing exclusively outside but Harris prefers the challenge of the inside and believes it suits him better.
Harris turns 31 in June and has missed just five games in nine seasons. But more important, he's a strong player.
Prickly Pete Prisco ranked 100 pending NFL free agents and ranked Harris at No. 8 overall, one notch ahead of his former Broncos teammate Shaq Barrett. (Joe has been told Harris and Shaq are friends.)
Chris Harris, Denver Broncos CB

He is still a good cover player who can play inside and outside. There is great value in that. He isn't slowing down, either
Joe has written about Harris previously, and given his versatility, Joe sees Harris as the perfect complement to the current stable of young Bucs corners.
Why not send those young corners into an immediate and fierce battle for playing time?