David Johnson Contract Confusion Takes A Turn
February 8th, 2020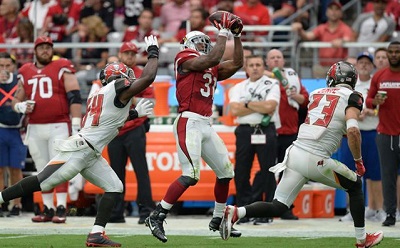 Super NFL guru Mike Florio of ProFootballTalk.com has issued a correction for ESPN, illustrating where the four-letter screwed up telling the world that Cardinals running back David Johnson was likely to be cut soon.
Johnson, Joe believes, is a likely target of our beloved Tampa Bay Buccaneers.
Per ESPN and other outlets, Johnson's $10.2 million salary was something the Cardinals were expected to dump by mid-March, presumably before it became guaranteed for the 2020 season. Florio explained that the contract already is guaranteed, and the Cardinals cap hit is even greater than the salary if they were to cut him.
So Florio speculated that Johnson moving on might have to come via a trade, with Arizona eating a chunk of the cash due.
Another possibility could be a trade, pursuant to which the Cardinals pay some of the salary and the new team pays the rest, possibly with net draft-pick compensation flowing to the team that takes on the contract, like the Brock Osweiler hot-potato trade from Houston to Cleveland.
Would Arizona deal Johnson for a seventh-round pick and the Bucs taking on $2 million of his salary? Or perhaps Arizona would want a conditional draft pick instead?
Perhaps Arizona would demand the Bucs hand over running back Dare Ogunbowale in a deal, the man who got more offensive snaps than Peyton Barber last season? (Sarcasm, folks.)
None of this is good news if the Bucs want Johnson. He's due $9 million in 2021, if his current contract stays intact, which is what would happen if there was a trade.
Still, Joe would expect Bucco Bruce Arians to explore finding a way to bring in Johnson sensibly.