"You Got To Be Careful Walking Around B.A. The Wrong Way"
February 2nd, 2020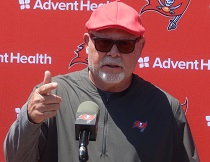 Buccaneers players seem to love Bucco Bruce Arians but they're also a little scared of him.
That's the word from Bucs stud receiver Chris Godwin, who picks the Chiefs in today's Super Bowl.
Godwin talked to SiriusXM NFL Radio last week and gave a glimpse into life on Arians' roster.
"B.A. he's a straight shooter, man," Godwin said. "He's no BS, and we love that. But like at the same time, he's not a proponent of fighting. You're not going to fight your own teammates. And I think a couple of guys started to kind of teeter that line, and he threatened us. And we believe that, man. You got to be careful walking around B.A. the wrong way. But at the end of the day he loves his guys."
This reminds Joe of Shaq Barrett talking last week about the shock waves that reverberated through the Tampa Bay locker room when Vernon Hargreaves was cut.
Joe continues to wonder how or whether Arians' accountability-based leadership will come down on Jameis Winston.