"All I Did Was Try My Best"
February 10th, 2020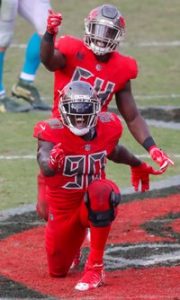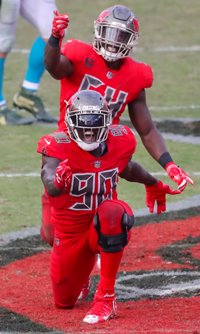 Will the Bucs bring back Jason Pierre-Paul in 2020?
That's unclear, but it's clear to Joe that JPP will want to be paid a market-value contract for a pass rusher with 21 sacks in his last 26 games.
It's a safe bet that just-turned-31-year-old JPP will want at least$25 million in guaranteed cash over the next two seasons.
Remember, about 20 edge rushers around the NFL will earn $10 million+ in 2020 (many a lot more). Texans outside linebacker Whitney Mercilus, for example, who is not the not the player JPP is, is in the middle of a contract averaging $13 million annually.
"All I did was try my best," JPP posted on Instagram yesterday with a picture of himself in a Bucs uniform. Interpret that cryptic message how you wish. JPP seems to like to post that kind of thing.
The Bucs could sign Shaq Barrett to a multiyear deal (wise), and then slap a franchise tag on JPP. But that likely might piss off JPP, must like he was bitter when the Giants franchised him in 2015. The Giants franchised him again in 2017. After that tag, JPP signed a long-term contract a month later.
As Joe has written previously, the Dolphins have an absolute ton of salary cap room and plan to use it. JPP lives in South Florida and Joe would expect the Dolphins to be in the mix. Their top sack-man last season was Taco Charlton with five sacks.