A Development Red Flag?
February 18th, 2020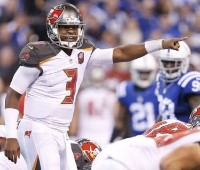 The dissection of Jameis Winston, America's Quarterback, officially has reached a new level with a fresh critique leveled today by a former NFL executive.
This one is certainly thought-provoking.
"Get Up" on ESPN television featured former NFL linebacker Emmanuel Acho and ex-GM and Dolphins boss Mike Tannenbaum talking about Jameis.
Tannenbaum said "absolutely not" when asked if Jameis is worthy of a starting job. He threw out a different look at Jameis, in addition to the standard criticism.
"Since he's been in the league, guys, they are in the top-5 in delay of game," Tannenbaum said. "So we can talk about all the turnovers, which he's led the league in the last five years. But the delay of game is a lack of awareness, and he has not developed where he needs to be."
This was the first Joe had heard of the delay of game proficiency.
It's an ugly stat, but it's unclear whether Jameis has improved in that area, or how Ryan Fitzpatrick's 14 games in a Bucs uniform affected the numbers. So Joe would need to know more to render a judgement.
One thing Joe does know about delay of game calls: Jameis was spared an interception this season on the opening drive (you guessed it!) in New Orleans, when he looked for Scotty Miller on 3rd-and-6 and found a guy wearing a Saints jersey. The pick was waved off because of delay of game. Good job, Jameis!
Tannenbaum added that quarterback Teddy Bridgewater and the Bucs' underrated defense is a recipe for success in Tampa.
Emmanuel Acho stood firmly in Jameis' corner and wants to see him improve.
"Cut the picks to 15 and you're still talking about a phenomenal quarterback," Acho said.