Will The Silence Break?
January 27th, 2020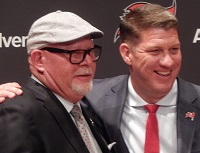 It's rather sad that Bucs general manager Jason Licht and head coach Bucco Bruce Arians have been quiet since the Bucs season ended.
One would think a GM and a head coach would be eager to communicate with fans, you know, the people who drive the success of the league and the organization.
Even a 10-minute public chat keeps fans engaged and, hopefully, excited. That's not only a nice gesture to the team faithful, it's an appropriate nod to the folks in the organization tasked with selling tickets and sponsorship for a losing franchise. Complementary football works off the field, too.
Senior Bowl week in Alabama saw legions of NFL coaches and executives do interviews with local and national media. But Licht apparently had no interest in talking to fans (and yes, when you talk to media, you are talking to fans).
Joe is quite certain that's the first time Licht has gone silent at the Senior Bowl in seven seasons there representing the Buccaneers. He was quite the week prior at Shrine Bowl practices, as well.
How hard is it to do an interview with Buccaneers.com?
Joe is unable to believe Licht and Arians are scared to talk about Jameis Winston publicly and subsequently are in hiding. Both know how easy it is to either prearrange for a subject not to be brought up in an interview, or to just avoid a subject without addressing it directly. Joe can only conclude that Licht and Arians don't care about Bucs fans as much as they should.
Hopefully, that will change.
As for the Jameis Winston saga, the famed Radio Row week at the Super Bowl kicks off this morning and Jameis has shown up in past years to talk about his career and to raise his profile.
Will Jameis be there this week? It's a chance for Jameis to paint himself as an attractive free agent, or to paint himself, like Shaq Barrett did, as a guy eager to return for Year 6 with the Buccaneers because he loves Tampa and its fans so much.
Joe wonders whether Jameis' agents will advise him to lay low or to get out there and charm the national media.