Tom Brady & The Bucs
January 6th, 2020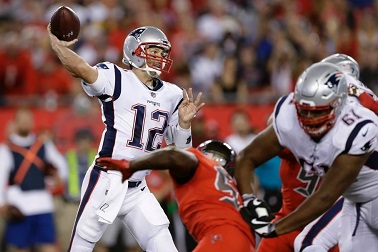 Many are calling for the end of the Tom Brady era in Boston. He turns 43 in August and just finished a strong season but a down year by Brady standards.
After losing to the Titans in the playoffs Saturday, Brady called retirement "pretty unlikely" and "hopefully unlikely."
"I'll explore those opportunities whenever they are. If it's the Patriots, great. If that doesn't work, I don't know. I just don't know. I love playing football. I still want to play football," Brady told Peter King of NBC Sports. "I think I still can play at a championship level. I've just got to go do it. I'm motivated to get back to work and training."
It would be so Bill Belicheat to move on from a legend of the game who can still perform. Brady wouldn't be the first star Belicheat either didn't want to pay or insisted he could thrive without.
And of course, that brings Joe to the Bucs.
If Brady is on the market (he would be a free agent in March), how could Team Glazer not be dazzled by the thought of selling out the Den of Depression and the sizzle of several nationally televised night games? Brady would deliver all of that.
Forget about Bucco Bruce Arians and Jason Licht, Brady would be an ownership call first and foremost.
Yes, Joe thinks Arians and Licht would want Brady, too. Remember that Licht worked around Brady with the Belicheats for several years.
Brady himself would have to be at least intrigued by the chance to throw to Chris Godwin and Mike Evans, and the Bucs tight ends. Heck, Arians might need medical attention if he started thinking about life with 10 interceptions instead of 30.
It's just fun speculation, but the chance of Brady moving on is real. And Joe is quite sure the potential option would be talked about seriously at One Buc Palace.