The Redskins, Dolphins And Jason Pierre-Paul
January 16th, 2020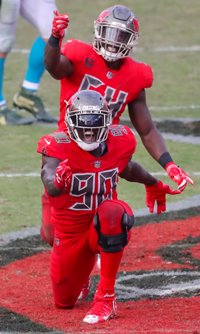 Joe is disturbed by various happenings around the NFL as we sit just two months and two days from the ringing of the 2020 free agency dinner bell.
Joe sees the young talent on the interior of the Redskins' defensive line, their eventual drafting of manbeast edge rusher Chase Young, the presence of new defensive coaches Ron Rivera and Jack Del Rio, and an owner unafraid to spend, and Joe can only think of one thing: Jason Pierre-Paul wearing a Washington uniform next season.
JPP may be the most interesting of the Bucs' pending free agents.
The guy has been an athletic freak since he was drafted by the Giants. Then he literally blew chunks of his hand off and fought a huge medical battle to return to the game.
He then got a surprise 2018 trade to the lowly Bucs and proceeded to give it all he had in a 12 1/2-sack season.
Then JPP broke his neck in May and returned midseason to rack up strong numbers in 10 games. The guy's a versatile, truly one-of-a-kind player who just turned 31 years old.
Would you rather have him or older-than-JPP Ryan Kerrigan playing the edge in your new 4-3 defense opposite college football's most ferocious edge rusher?
Joe has a very strong feeling that JPP, who just turned 31, will be coveted by the new regime in Washington. He's a culture-changing kind of guy for a couple of attack-dog defensive coaches who no doubt appreciate what JPP brings and how he could impact a rookie.
Yes, Joe realizes it's common for Bucs fans to think JPP will be happy to be paid like a second-fiddle pass rusher to Shaq Barrett. Joe has no clue why some fans and media believe that, but the reality is JPP would be the No. 1 pass rusher on many teams, including the Falcons and Dolphins.
Joe has an eye on Miami for JPP, where the Dolphins are expected to have an unprecedented $125 million in cap space and have pledged to use it in 2020. JPP and his family live in South Florida.