"The Quarterback Field Is As Diverse As I Can Ever Remember It"
January 3rd, 2020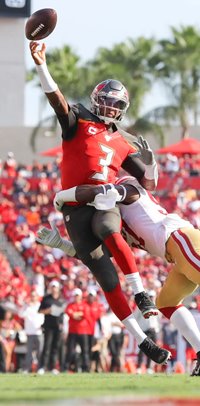 It's a bad year for a quarterback seeking contract leverage.
That's just the cold reality for America's Quarterback, Jameis Winston, who arguably is the most inconsistent quarterback in the league.
Want consistency? Jameis is not your guy. Want talent and work ethic? Jameis is going to get you very excited.
Former New York Giants great Tiki Barber, Rondé's brother, had a long discussion about this yesterday on CBS Sports Radio. It piqued Joe's interest.
"The quarterback field is as diverse as I can ever remember it," Barber said.
Just look at the list of names currently set to be free agents or likely to be on the trade market.
Start with Ryan Tannehill, a guy who has multiple 4,000-yard passing seasons in his past, who currently is having a monster year. Most impressive, per Barber, is that Tannehill has appears to have completely reinvented himself, a rare feat at the NFL level.
Throw in Andy Dalton and Philip Rivers, guys with multiple Pro Bowls and playoff experience. Cam Newton and Derek Carr might be easy trade targets, more guys with multiple Pro Bowls and playoff experience.
Teddy Bridgewater has proven himself in multiple systems, and has starting experience and a Pro Bowl. And if you want a washed out Super Bowl winner with a little left in the tank, Nick Foles, Joe Flacco and Eli Manning probably wouldn't mind a change in scenery.
Of course, Tom Brady very well could be on the street if the Patriots lose this weekend. Don't you think Team Glazer would love to fill all those empty seats?
Include the solid prospects in the 2020 NFL Draft, and Barber is right, this is an extraordinarily unique offseason for quarterbacks.