Secret To Fixing Jameis
January 30th, 2020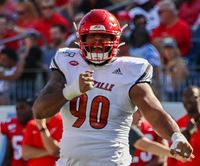 In the eyes of one national columnist, way too many Bucs fans are not seeing the forest for the trees.
Brett Sobleski of Bleacher Report understands why some Bucs fans are going mental with the thought of bringing back Mr. Entertainment, America's Quarterback, Pro Bowler Jameis Winston.
Sobleski is of the mind Jameis is low-hanging fruit. The trick to getting Jameis to cut down on the picks is simple, he types. Beef up the offensive line.
Of course, Sobleski, predictably, is not a Donovan Smith fan and thinks right tackle Demar Dotson is toast. So the first step in helping get Jameis right is drafting a new right tackle. And the target should be Louisville tackle Mekhi Becton.
Winston made plenty of mental mistakes, but he also faced a lot of pressure last season (47 sacks, 54 hits, 60 hurries).

Left tackle Donovan Smith is signed through the 2021 campaign, whereas 34-year-old right tackle Demar Dotson is a free agent. The width of the pocket is vital in Bruce Arians' dropback passing scheme.

As such, the addition of the 6'7″, 369-pound Mekhi Becton would be a logical move. And his size belies his movement skills. The Louisville product, who's played both sides, displays a smooth pass set and can mirror much smaller edge-rushers.
The first thing Joe has to ask is if this Becton can run block? Joe is not yet in draft mode; the 2019 season isn't over yet. And then there is free agency.
But Joe is smitten with South Carolina's Javon Kinlaw, who sounds like a clone of Ndamukong Suh. Currently, that's where Joe would lean.
But if Becton is as good as what some folks have written, Joe's OK with that. And then if you have to trade up from the second round to get J.K. Dobbins, then do it.
Of course, Joe heard what Bucs coach Bucco Bruce Arians said about drafting offensive linemen high, so Becton could be a pipe dream.