Real Talk
January 27th, 2020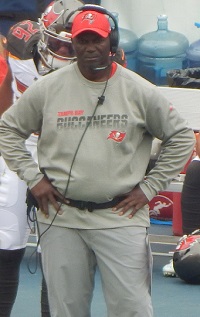 With the free agency dinner bell set to ring across the NFL on March 18, it's possible players have a changed perspective of Tampa Bay.
Yes, even though it's been three consecutive seasons of loserville in Tampa, and 12 straight seasons of no playoffs, at least Todd Bowles and Bucco Bruce Arians are altering the reputation of the team.
It used to be that Bucs management would suck up to players who didn't care about the team because of their pay checks. See Doug Martin, DeSean Jackson and Chris Baker. What a strategy!
Former Bucs defensive coordinator Mike Smith got the same treatment. Brilliant leadership!
At the forefront of the Bucs change is Shaq Barrett. And something he said last week at the Pro Bowl was telling. Shaq told SiriusXM NFL Radio all about how Bowles is "100 percent real all the time." And the Bucs' sackmaster went on to say how Bowles lectured him when he arrived in Tampa, "I don't care who's starting. I want the best guy to be starting."
When that kind of talk is not empty, it gets the attentions of free agents around the NFL, hungry guys like Shaq seeking real opportunity versus empty promises of BS-artist coaches and executives.
It makes a difference. And Joe suspects Breshad Perriman got the same kind of sales pitch from Bucs offensive coaches.
Joe admires how the Arians regime marches to the beat of its own drum, even if it meant senselessly limiting Ronald Jones' touches after the season was lost, neutering the tight end position, refusing to get veteran cornerback help and drafting a linebacker at No. 5 overall when smarter options were available.