Plenty Of Company — And Opportunity
January 17th, 2020
BY IRA KAUFMAN
The rest of the NFC South is backing up to the Buccaneers.
Tampa Bay went 2-4 in the division during the first year of the Bruce Arians era, but there are tangible reasons to believe the Bucs are the team on the rise in this group — particularly if Jameis Winston remains under center and fixes his turnover issues.
While there are serious questions concerning the Panthers and Falcons, even the division titans face an uncertain future because Drew Brees just turned 41 and has yet to commit to returning for a 20th pro season.
Teddy Bridgewater filled in nicely while Brees was sidelined, but Bridgewater is a looming free agent and New Orleans fans don't even want to think about life without No. 9. We're talking about the NFL's all-time leader in passing yards, TD throws and completion percentage.
Brees has engineered 50 game-winning drives, second only to Peyton Manning, and more than a few of those comebacks have come at Tampa Bay's expense.
The Saints have ruled over the NFC South in the past three years with a 37-11 record, ranking 3-3-4 among NFL teams in points scored during that span.
The arrival of Alvin Kamara refreshed Sean Payton's playbook, but it will be back to the drawing board if Brees retires to the safety of the broadcast booth.
When Arians addressed the Bucs after a 7-9 finish, the Crescent City was very much on his mind.
"The biggest message was I think the difference between us and the New Orleans Saints – in September they knew they were going to win the division," Arians said. "We thought we might, but we weren't sure and it was too late by October. I think next year when we step on the field we should know we're good enough."
South Heading South
The Panthers, simply put, are a mess.
New owner David Tepper is a former hedge fund manager who is now hedging his bets. Carolina doesn't know what to do with Cam Newton, who had surgery on his left foot in December.
Newton is under contract for one more season at $21 million, but he looks like a broken-down former league MVP. He is 6-10 in the past two years, undermined by leg and shoulder injuries.
Backup Kyle Allen orchestrated a 4-game winning streak in Newton's absence, throwing seven TD passes without an interception in that stretch, but he faded badly and new head coach Matt Rhule won't like Allen's tape enough to consider him the 2020 starter.
Then we had the Luke Kuechly shocker as Carolina's 28-year-old middle linebacker called it quits. You don't easily replace a potential Hall of Fame player entering his prime, so the Panthers appear primed for another last-place finish.
Coming off successive 7-9 seasons, the Falcons retained coach Dan Quinn because Arthur Blank is a patient man and Atlanta rallied from a 1-7 getaway.
That 2016 NFC championship team seems like a distant memory as Matt Ryan, who turns 35 in May, prepares for another year of bruises.
Ryan suffered an NFL-high 48 sacks and there's no reason to believe his protection will improve significantly this fall. Atlanta's ground game was even less productive than Tampa Bay's and it's apparent that Devonta Freeman has seen his best days.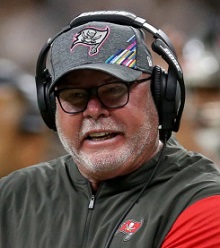 Foundation Finish
The future could belong to the Bucs, but only if this team plays smart, disciplined football. A 5-3 second half and a 5-3 road record suggests the talent base at One Buc Place is adequate for a playoff run.
"There's times we look awesome, one of the best teams in the league," says Cameron Brate. "Anytime you have a new coach, it's going to take a little bit of time — unless you have a winning team with an established quarterback like the Packers.

"I think there's a good foundation here. This coaching staff instills a ton of confidence in everyone. They just believe in you, they really do. They give everyone an opportunity to do what they're best at. But until we find a way to look like the team we're capable of being, we're not going to like the results."
Ira Kaufman launched his professional NFL beat coverage in 1979, back when Earl Campbell was the toast of the league and Lee Roy Selmon was defensive player of the year. After a lifetime at The Tampa Tribune, "The Sage of Tampa Bay Sports" joined JoeBucsFan.com in July of 2016. His twice-weekly podcast and three columns per week appear here year-round and are presented by Bill Currie Ford. Tampa Bay's only Hall of Fame voter is a regular on SiriusXM Mad Dog Radio and a part of the FOX-13 Tailgate Sunday show, in addition to his other appearances.