No Reports Of Bowles, Leftwich Interviews
January 6th, 2020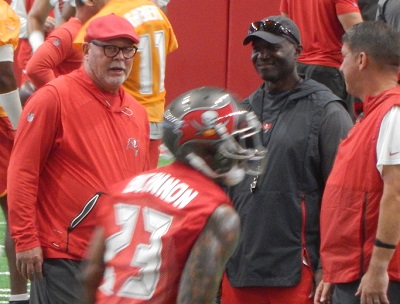 More than a week after the Bucs season ended, there appears to be no market for Bruce Arians' top assistants.
So what does that mean?
First, Joe is confident that's a referendum on Todd Bowles' ugly tenure as Jets head coach. His team went in the toilet after, ironically, Darrelle Revis and Ryan Fitzpatrick carried it with special seasons in 2015. Bowles went from 10-6 to 5-11, to 5-11 again with a defense that was not competitive. That's Dirk Koetter territory.
As for Leftwich, well, the NFL is all about the hot mindset when it comes to hiring coaches. Last year was about finding young Sean McVay clones, and that approach appears to have completely evaporated in 2020.
Joe's not saying 39-year-old Leftwich is head-coach material after his first full season as a playcaller. But in many offseasons a guy leading a high-powered offense, who also comes with Bruce Arians' blessing, would at least get an interview.
This is all good news for the Bucs, who want continuity on their coaching staff that guided the team to a 5-3 record in the second half of this season.