Jaws Talks "Mind-Boggling" Jameis
January 31st, 2020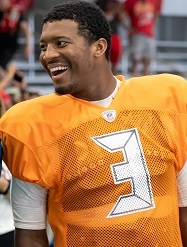 After 15 seasons as an NFL quarterback, years calling Bucs preseason games and what felt like forever analyzing quarterbacks for BSPN, Ron "Jaws" Jaworski knows a thing or two about QBs.
Yesterday, he was talking about America's Quarterback, Jameis Winston.
Jaworski, like a majority of Jameis observers, is in full head-scratch mode after watching Jameis make 70 NFL starts.
"I still believe Jameis Winston is a great talent. His inconsistency is mind-boggling. I mean, you know, he could look like the greatest quarterback of all-time and the next quarter you wonder who that guy is," Jaworski told WDAE radio.

"And his starts some games have been just awful. … But I still see the talent there. I still have great respect for Bruce Arians and Tom Moore of refining that position."
Jaws went on to say he thinks Arians will keep his options open and likely be tempted by some of the veteran quarterback names expected to hit the free agency market.
While nearly completely unrealistic given Jameis' ego and potential salary, Jaws seemed to think the Bucs might sign an old, veteran QB and still keep Jameis to learn from the guy.