"If I'm Jameis, I'm Asking For $30 Million Guaranteed"
January 15th, 2020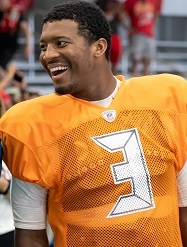 Yes, Jameis Winston is expected to scoff at the likely $27 million value of the 2020 franchise tag for quarterbacks.
He's worth more, many folks think. And one would be longtime NFL insider for CBS, Prickly Pete Prisco.
Prisco isn't celebrating the greatness of Jameis the quarterback, just the value of Jameis in the marketplace.
"If I'm Jameis, I'm asking for $30 million guaranteed money," Prisco told WDAE radio. "Again, Dak Prescott's probably going to get [$35 million annually]. The new CBA money is going to go up. What I've been saying all along is you're damned if you do and damned if you don't with those guys. And Dak included [and] Jameis Winston. What if you do if don't bring him back? If you're the Bucs, what do you do?"
Prisco likes that "you won't find better" argument and noted Jameis should improve in Year 2 in Bruce Arians' offense.
Options like Josh Rosen, Philip Rivers, Marcus Mariota and not viable answers, Prisco said, though he suggested Cam Newton, if available, is someone the Bucs should prefer over Jameis.
Fixing Jameis is simple in theory, Prisco said, adding that Bucco Bruce Arians just "has to get him down from 30 [interceptions] to 15 or 16" while maintaining Jamies' high touchdown totals.
Yeah, Pete. Piece of cake.