Ian Rapoport: Winston Is Expected To Be Back
January 1st, 2020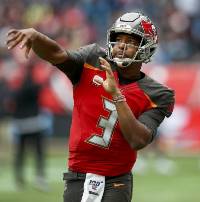 NFL Network insider reporter Ian Rapoport, a guy who will tell you he's friendly with Bruce Arians, has yet again said America's Quarterback, Jameis Winston, is expected to wear pewter and red next season.
As Joe wrote, "again."
On Monday, Rapoport was unwavering during his chat on WDAE radio following Jameis and the Bucs losing to the Falcons.
"From what I understand, Winston is expected to be back. I know [the Bucs] haven't come out and said it. From everything I've been told, that has not changed," Rapoport said, adding ,"I would be extremely surprised if the if the Bucs move on from Jameis."
Rapoport even added that a multiyear probably benefits the Bucs, rather than Jameis going out and playing well next season on, for example, the franchise tag that would pay him about $27 million in 2020.
It's all very interesting and entertaining. Decision Jameis likely won't end anytime soon.
Bucs players were allocated 10 minutes each with Arians this week, private exit chats before the players leaving for winter vacation. Joe wonders what Arians told Jameis in that meeting?
Joe's guessing Arians gave a political answer and told Jameis he wants him back but it's not his call.