"I Don't Want To Mess This Up"
January 8th, 2020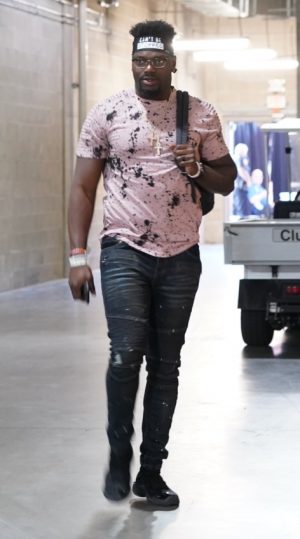 Family man Shaq Barrett is entering free agency as a 27-year-old, league-leading, 19 1/2-sack guy.
It's a break-the-bank combination, but one part of Decision Shaq often gets lost in the conversation about his future.
And that is what Shaq desires. What does Shaq really want?
It's an important question because he probably would have at least a dozen teams eager to sign him if he reached free agency when the dinner bell rings in March.
Several times this season Shaq talked about how much he loves the Todd Bowles system and how he would prefer not to move his family again after arriving in Tampa from Denver last March.
And again today, a Shaq comment was published that makes Joe believe Shaq truly wants to be a Buccaneer.
"… It feels perfect. I like (Arians). I like (general manager Jason Licht). I like the training staff, I like everybody. I don't want to mess this up. There's no reason for me to mess this up down here," Shaq told the Tampa Bay Times newspaper.
Joe wants to be excited for a Shaq return, but money talks and there's no telling how Shaq's desires could change if another team, say, wanted to drop $25 million guaranteed in his lap while the Bucs were offering 20 percent less.
Yes, the Bucs could slap the franchise tag on Shaq for around $16 million in 2020, but that puts the Bucs in a very difficult spot if Shaq goes out and has even just 10 or 11 sacks next season. He'd command a more monstrous fortune for 2021 and beyond as a 28-year-old sack artist with two years of consistency.
Joe believes Shaq when he says he doesn't "want to mess this up."
Perhaps the bigger question is if the Bucs want to mess it up?
Joe continues to wonder what the real truth is surrounding Shaq's shoulder, and how that might affect decision-making at One Buc Palace.
Bucs fans all saw seven years ago what happened when Michael Bennett's questionable shoulder appeared to lead the Bucs to make the horrifically stupid decision to let him walk.