"I Don't Think He's Going To Get Done For 16, 17, 18 [Million]"
January 22nd, 2020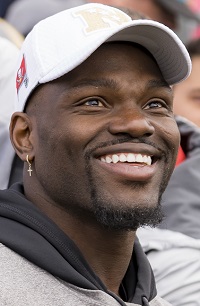 In late November on national radio, Bucco Bruce Arians talked about how a guy getting 16 sacks in a season is good enough production to earn him between $16 million and $20 million per season.
It was a telling moment on SiriusXM NFL Radio.
Perhaps Shaq Barrett heard that and it's a reason he was smiling so much today at Pro Bowl practice at Disney World. The Bucs' 19 1/2-sack linebacker knows he's about the break the bank.
But how much will he earn?
CBS Sports insider Prickly Pete Prisco was adamant that he thinks the Bucs will need to approach $20 million per season to sign Barrett to a multi-year contract. "I don't think he's going to get done for 16, 17, 18 [million], Prisco told WDAE Radio today.
Prisco noted Jaguars stud defensive end Yannick Ngakoue turned down $18 million per year from Jacksonville last offseason because he was looking for the $20 million+ per year that was scored by pass rushers Frank Clark (Chiefs) and Demarcus Lawrence (Cowboys).
Shaq was better than all three of those guys this season, Prisco added. None of them recorded double-digit sacks.
Of course, the Bucs could slap the franchise tag on Barrett, which likely will cost $16 million and change for 2020. But using the franchise tag limits the Bucs' options with America's Quarterback, Jameis Winston, and certainly Shaq's agent is well aware of the Tampa Bay's quarterback situation.
Bucco Bruce Arians and Jason Licht will need to be very business savvy this offseason as they look to build a team that can contend over the next few years. Joe can't claim to be confident in their abilities, only hopeful.