"He Won't Have A Market"
January 31st, 2020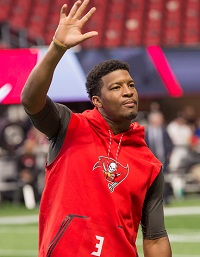 This is what it's come to. February is almost here and the Bucs silence continues, mirrored by silence from the Jameis Winston camp and shadowed by escalating rumors that both sides appear to like.
Next up today? Anonymous league sources talking to ESPN.
Longtime reporters Dan Graziano and Jeremy Fowler penned an Overheard-During-Super-Bowl-Week column and one nugget featured an unnamed NFL suit weighing in on Jameis' future.
The Bucs' Jameis Winston, coming off a 33-touchdown, 30-interception season, will join Brady, Brees and others on the free-agent market in March. Bruce Arians was noncommittal at the end of the season about Winston returning to Tampa in 2020.

Here's what one NFL exec said this week about the former No. 1 overall pick: "I don't see how you can pay him. It would have to be pretty reasonably low if they did. You can't give him big money based on the way he played. He won't have a market."
No surprise that this take was rather vague, but the "he won't have a market" line is loud and clear.
Joe is unsure of what to make of that. There was a starter money out there for Mike Glennon when the Bucs let him hit free agency. Joe clearly remembers that general manager Jason Licht was prepared to make Glennon the highest paid (or nearly the highest paid) backup QB in all of football.
Josh Freeman was launched by the Bucs and found a team willing to make him a starter and pay him for half a season. Heck, so did Ryan Fitzpatrick and Josh McCown.
To think there would be no starter market for Jameis is just silly. But at what price?
That's the magic question. Where might the Bucs draw a line in the sand on a one-year offer if they don't want to use the franchise tag on Jameis?