"Grimy" Godwin
January 12th, 2020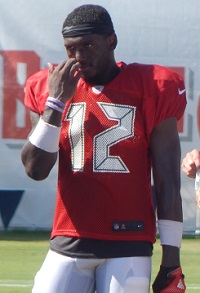 Bucco Bruce Arians gave one hell of a sales pitch.
It feels like a lifetime ago, but when Arians arrived and made it clear he envisioned receiver Chris Godwin as an every down slot receiver, Godwin was not doing jumping jacks with excitement.
Perhaps it was because Godwin saw himself is a No. 1 receiver, which former coach Dirk Koetter frequently said he was. And besides, what big, strong young receiver who excelled outside in college really dreams of becoming a slot guy?
Regardless, not only did Godwin make the Pro Bowl in the slot for Arians, he's also revamped his mindset and now sees himself as an enforcer in the trenches.
"I like to see myself as more of like a grimy player. Like I'm [going to] do all the dirty work," Godwin told The Current on the Bucs' official website. "I'm going to block linebackers and safeties and sometimes defensive ends. But I'm also a guy that can go in and make contested catches as well."
Those who watch game film saw Godwin thrive as a willing blocker all over the field. But Joe is impressed how Godwin has embraced his role to the point where he's calling himself "grimy." That's not a common receiver adjective.
Man, Joe wishes medical science could find a way to implant Godwin's fierceness in O.J. Howard.
Joe would love to see Arians and general manager Jason Licht extend Godwin's contract now, much like Licht did for Lavonte David after his third NFL season. You can either pay more for Godwin later, or lock him up now and send a message to the team that Godwin is the kind of guy the organization wants to shower with cash.