Chris Myers: Tom Brady Fits In Tampa; Jameis Might Be Better Off Relocating
January 29th, 2020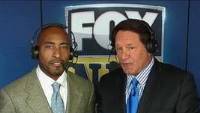 The longtime voice of Buccaneers preseason football, and a guy who called Bucs games this season for FOX, has weighed in on America's Quarterback, Jameis Winston.
Good guy Chris Myers is an astute observer of all things Bucs, and a man who sits in with Tampa Bay officials on those revealing TV production meetings.
Myers chatted on SiriusXM NFL Radio yesterday and was asked about what he thinks of Jameis' future in Tampa.
"I think, and I hate to say this, he might be better off going somewhere else," Myers said of Jameis.

"He's a good guy. He tries hard. I think there's a perception out there that he's a bad guy; he's not. I just don't know how good a quarterback he is. Troy Aikman always talks to me about a quarterback having accuracy … and that's one of the things that I see lacking, and just the mentality of that position. Knowing we're up by this score, we're down by this score, I gotta protect the ball; the priorities in the moment."
Myers went on to say he could see Tom Brady being attracted to Tampa by the team's stud receivers and freedom under Bruce Arians.
Myers also senses the positive jolt Brady would bring the franchise. "The Buccaneers could use an infusion like that," Myers said.